Want to volunteer with this charity?
When this charity has active volunteer opportunities, you will see them listed below.
When you 'view details', you will learn everything you need to know about that opportunity, and you can register to volunteer, if you haven't already, or sign-in to your volunteer dashboard to apply for that opportunity.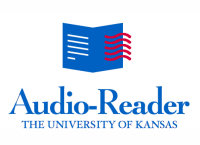 Audio-Reader
1120 W 11th Street, Lawrence KS 66044, Douglas County
About Us
The Audio-Reader Network is an audio information service for individuals who are blind, visually impaired, or print disabled, throughout Kansas and western Missouri. We provide accessible audio versions of newspapers, magazines and books on the air, over the internet, by telephone and via smartspeakers, 24 hours a day. Services are free of charge to anyone who is unable to read standard printed material.