Want to volunteer with this charity?
When this charity has active volunteer opportunities, you will see them listed below.
When you 'view details', you will learn everything you need to know about that opportunity, and you can register to volunteer, if you haven't already, or sign-in to your volunteer dashboard to apply for that opportunity.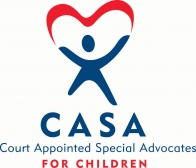 CASA: A Voice for Children
800 N. Main Street, Newton KS 67114, Harvey County
About Us
CASA is a not-for-profit that works directly with children who have been removed from their homes due to abuse or neglect. Our goal is to get them reintegrated with their parents, or find them good adoptive homes if reintegration is not possible.