Kansas Association of Volunteer Engagers (KAVE)
KAVE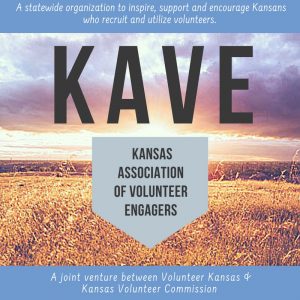 The Kansas Association of Volunteer Engagers is a statewide association with a mission to inspire, support, and encourage Kansans that recruit and utilize volunteers.
A joint venture between Volunteer Kansas and the Kansas Volunteer Commission, this association was created to build a network of volunteer management professionals with the desire to share best practices and develop new skills. If you work with volunteers, then you are welcome to be part of KAVE.
As a charity member of Volunteer Kansas, you can join KAVE at NO cost with all of the benefits:
Professional Development
Knowledge Acquisition
Industry Networking
The Basecamp Platform
KAVE is a shared electronic platform. Basecamp is a real-time communication tool that helps groups collaborate, communicate, share, and learn.
Basecamp is easy to use and configurable to individual needs. Want to be notified every time something is posted to Basecamp? No problem. Prefer to be notified only once a day? There's a setting for that. Don't want to be bothered and only want to log in when you want to see updates? You can do that too.
Getting Started
Ask Volunteer Kansas for an Invitation.
Watch an 8-minute Basecamp Tutorial
Read the Basecamp Instruction Manual
Feel free to add documents in the Online Library or pose a question on the Message Board. We hope you will take advantage of your membership and share all things "volunteer." For more assistance, contact Meg Pearson at mpearson@ksde.org.